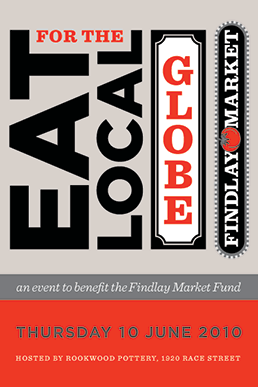 From the Cincinnati Business Courier:
If you're the kind of person who worries about just how far your green beans had to travel before they made it onto your plate, then this dinner is for you.

The Corporation for Findlay Market will host the "Eat Local for the Globe" event from 5:30pm to 11pm June 10 at Rookwood Pottery. The event is limited to 100 guests, and they will get a five-course "locally sourced" meal prepared by chefs Luke Radkey and Jody Miller along with wine and live music. The cost is $45 per person.

"Purchasing locally grown products provides a boon to the local economy," Karen Kahle, resource development director at the Corporation for Findlay Market, said in a news release. "'Eat Local for the Globe' is a unique event highlighting the talents of local chefs and ingredients."
Get all the details, and read the full story from Lucy May here.