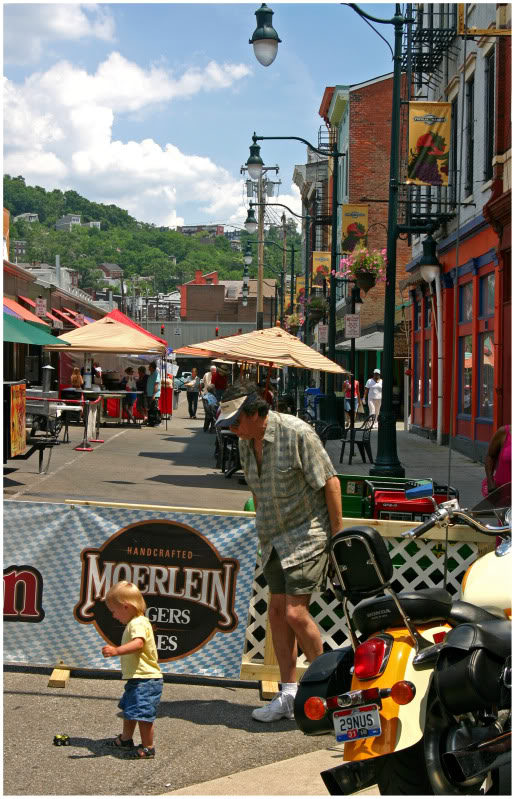 Following a week delay in opening due to permitting issues, the Over-the-Rhine Biergarten returned last weekend to its summer-long post at historic Findlay Market. The biergarten provides the perfect opportunity to round out American Craft Beer Week in Cincinnati once the beers start to flow this Saturday and Sunday.
Offerings include cans of Hudy and Burger beer for $2 a piece, as well as three Christian Moerlein selections on tap. Drafts will run you $4 for a 16 oz. pour, or $5 for the larger 22 oz. size and you can have your choice of OTR Ale, Lager House and the newly released Northern Liberties India Pale Ale.
Over 600 guests got to enjoy samples of Moerlein's first venture into hoppier beers with the Northern Liberties IPA keg tapping event at Rookwood Pottery when it was officially released on Friday, May 6th. A traditional British style, the IPA got its descriptive name as a result of the increased level of hops and alcohol, both natural preservatives, needed to allow the beer to keep for the long sea voyages from the UK to the colonies in India.
The beer style has evolved over the years and American IPAs tend to push the envelope of hop additions much more so than their British counterparts. The Northern Liberties may be the best Moerlein brew to date, and despite the increase in hops, it still retains the distinctive, malty Moerlein taste and mouthfeel. American IPAs can range from 40-70 International Bitterness Units and 5.5-7.5% Alcohol By Volume, and Moerlein's IPA comes in at 55 IBUs and 6.3% ABV.
In an effort to make the biergarten more accessible to all Findlay Market patrons, a cooler has been added to the operation that will allow shoppers to keep any perishable groceries cool while they enjoy a cold beer in the summer sun. The taps will be flowing from 11am to 5pm on Saturdays, and 12pm to 4pm on Sundays, every single weekend from now through Labor Day, and all proceeds benefit both the OTR Brewery District and the OTR Foundation.
Whether you plan on heading to Findlay Market already, or you decide to use this as your excuse, venture down to the Over-the-Rhine Biergarten this weekend to toast the closing of American Craft Beer Week, and come back all summer long to enjoy the sights and sounds of one of Cincinnati's greatest assets, all while drinking for a good cause. Cheers!