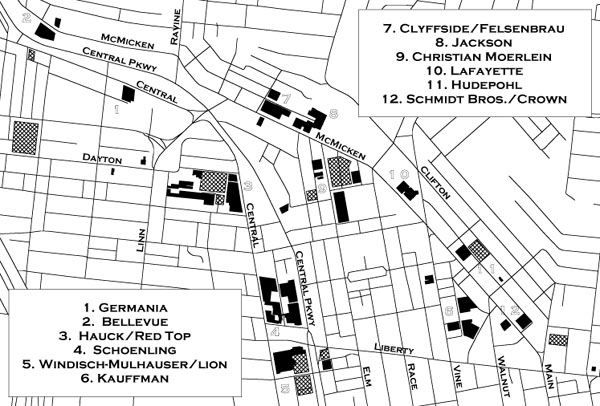 The European-American Chamber of Commerce (EACC) YP Committee is hosting a walking tour of Over-the-Rhine's historic Brewery District on Saturday, June 5 from 1pm to 3pm. Organizers with the EACC say that the tour will focus on the European influence on the architecture and diversity of cultures found within the district.
The Brewery District Tour is part of YP Committee's 3-D/Multi-Dimensional Series that focuses on Discovery, Diversity and Development.
"The tour will highlight Cincinnati's German heritage as we learn how German immigrants brought their beer brewing skills to Cincinnati," said Anne Capel, EACC Executive Director. "We'll learn about Cincinnati's beer barons like Christian Moerlein and Ludwig Hudephol, the historic breweries they built, and experience first hand the European/American culture that infused the neighborhoods around them."
In addition to experiencing Christian Moerlein and Ludwig Hudephol, attendees will also tour Clyffside, Lafayette and Jackson Breweries as guided by the Brewery District Foundation. The Brewery District, Over-the-Rhine and Cincinnati to a much larger extent was heavily influenced by German immigrants that brought customs, dialects, religions, occupations and classes with them that are still often found today in the region.
"The Over-the-Rhine neighborhood has recently become a focal point of renewed interest in Cincinnati history and culture," explained Capel. "The Germans' entrepreneurship skills built the brewing industry in a part of the neighborhood which we call today the Brewery District. Due to this industry and various others, commercial activity of the area became centered on Findlay Market."
Registration is open to anyone interested, but the tour is limited to 40 people. Registration is open until Tuesday, June 1st, but those interested are encouraged to register early due to the limited availability. Tickets can be purchased online for $15, and include a free beer during the networking and socializing time at the Findlay Market Biergarten after the tour. Organizers state that tickets will be fully refunded if there is inclement weather.
The tour group will meet at the Over-the-Rhine Biergarten (map), located on the southwest side of the Market House along Elm Street, at 1pm.  Free bicycle parking is available at Findlay Market along with on- and off-street automobile parking.  Metro bus service is also available (plan your trip).
Get a taste of Over-the-Rhine's historic Brewery District and its treasures by watching this great video.