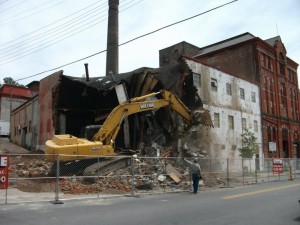 Despite the efforts and desire of building owner Duane Donohoo to save the structure, Cincinnati's oldest brewery was brought to the ground this past Sunday under an emergency demolition order from the City. Following the original wall collapse two weekends ago, the building at the northeast corner of Stonewall and McMicken (map), nicknamed "Brewers Blvd", appeared destined to be rebuilt and saved from the wrecking ball, however high winds Friday triggered a second, larger collapse of the western wall leaving it as a dangerous liability.
With the one wall crumbling, and suggestions that the buildings facade may soon follow suit, Donohoo declined to fight the demolition out of concern for the safety of those in the vicinity of the building. Thus the oldest of seven structures that comprise the Clyffside Brewing complex in the northern section of Over the Rhine's Brewery District has been lost.
When the two-story brick building was constructed in 1846, the facility brewed only a modest 275 barrels of beer in its first year of operation under its original moniker of George Klotter & Company. Since those days, expansions and ownership changes have seen the buildings produce ales and lagers under the banners of Sohn, Mohawk, the aforementioned Clyffside, and most recently as Red Top Brewing Company, before closing its doors on September 27, 1957, leaving over 150 Cincinnatians jobless
Regardless of this significant historical loss of the city's history, Donohoo confirms the the redevelopment plan, which includes condos with terraced, city-view decks and indoor parking, will move forward in the remaining brewery buildings. When it is all said and done, Donohoo plans to put between $3-$3.5 million in the property, and still hopes for it to be an anchor of a revitalized Brewery District.