Cincy Flags is an initiative that is looking to instill pride and place in Cincinnati through the design of a unique flag for each of the fifty-two neighborhoods. The flags will be designed through public input sessions where that input is then handed off to a designer who will apply finishing touches to the final flag design.
The idea started with Henry Frondorf, who won the first ever Engage Cincy Grant for the Neighborhood Games in 2016. He says his inspiration for the Neighborhood Games started as a spark when he attended the Men's World Cup Match viewing party on Fountain Square in 2014.
The Neighborhood Games are a series of events where teams from each neighborhood compete to win the Neighborhood Cup. The events mirror the Olympics where there are an opening and closing ceremony. After his first Neighborhood Games, he realized that not all neighborhoods have a representative flag.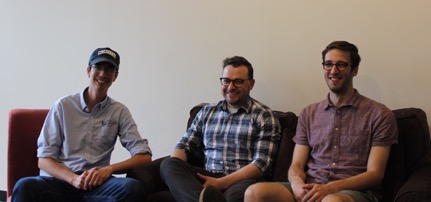 Because of this, Frondorf, along with designers Josh Mattie and Chris Cliff-Perbix, came up with the idea to instill a sense of place in each Cincinnati neighborhood through a flag. They applied this idea to the Engage Cincy Challenge Grant Program were chosen from seventeen finalists to receive $10,000 from the city for this initiative.
The Engage Cincy Challenge Grant Program, which is awarded by the City of Cincinnati, is intended to be a community building competition that intends to use the funds for the "development, launch and promotion of innovative projects that better a specific neighborhood or the entire city."
So far, the project is in its information gathering stage. They've been surprised at the feedback they've gotten from the survey so far, with responses to questions like "what do you wish more people knew about your neighborhood?"
"You'll get feedback from people who respond saying that what is most important about their neighborhood is that they've lived there for forty years and all the connections they've made through that. That is hard to represent, and we are trying to physically represent that feeling," said Chris Cliff-Perbix.
"The vibe of a neighborhood is determined by the people in it. A flag can be a visual emblem of the spirit of the neighborhood, and it can be a tangible communication of a community," co-founder Josh Mattie told UrbanCincy. "People are eager to embrace the embodiment of what they feel about their neighborhood. It is interesting to see how people use the form as a way to speak their voice about the wide variety of feedback they can give about their community,"
The flags were flown at the Parade of Neighborhoods Opening Ceremony at the Neighborhood Games in 2019.
This year's Neighborhood Games Opening Ceremony was July 21 at 7 p.m. at Washington Park.
While the third Neighborhood Games is in the books you can still tell Cincy Flags what you love about your neighborhood by filling out the survey here.