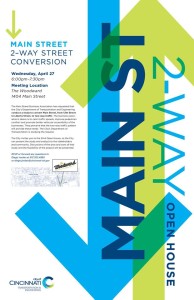 Almost two years ago we reported that community groups in Over-the-Rhine requested City Hall to evaluate the possibility of converting Main Street from one-way to two-way travel.
Converted in the 1930's, the street acts a couplet with Walnut Street directing automobile traffic northward on its two travel lanes to facilitate the speedy flow of traffic. However, as evidence of the detrimental effects of one-way streets has been documented, this practice is slowly falling out of favor.
Nearby, in 1999, the City of Cincinnati converted Vine Street in OTR to two-way and, despite the city's Department of Transportation & Engineering finding the change caused seconds worth of delay for motorists, the street has flourished with pedestrian activity.
But as Vine Street flourished, Main Street stagnated.
Despite long time storefronts such as Iris Bookcafe and Mr. Pitifuls, the corridor, from Twelvth Street to Liberty Street, has had difficulty in attracting and retaining retail activity, despite the growing availability of storefronts that were previously galleries for Final Friday.
So the question many neighborhood leaders are now asking is whether similar treatment, as Vine Street, could work similar magic on Main Street.
On Wednesday, April 27, the City's DOTE will host its third open house on the matter. City officials say that purpose of the open house is to present information that the City has gathered, and to also solicit public input regarding the request.
A flyer for the event states that, "The business association's desire is to calm traffic speeds, improve pedestrian comfort and promote better vehicular accessibility of the businesses. They perceive that the two-way traffic pattern will provide these needs."
The open house will take place at the Woodward Theater and run from 6pm to 7:30pm. The theater is very accessible by Metro routes #16, #17, #19 and #24, and is less than a block from the Main and Orchard Red Bike station.