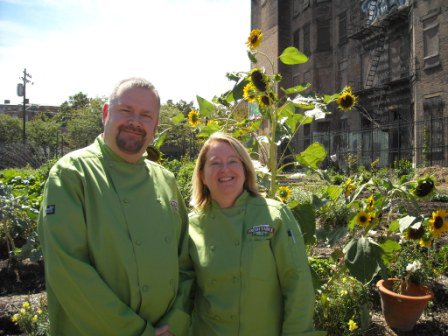 Fresh Table will celebrate its grand opening at Findlay Market tomorrow. The new sustainably focused take-out food vendor will be open during regular market hours from 9am to 6pm tomorrow and throughout the rest of the work week.
Located inside the market house at the eastern entrance along Race Street, Fresh Table will treat customers to a "theatre production" of sorts with two flat-screen televisions broadcasting the action taking place in the exhibition kitchen.
According to Fresh Table co-owner Meredith Trombly, the screens will showcase unique menu items and the businesses many green partnerships with local vendors when there is nothing happening in the kitchen.
"Our passion for the environment fits with Findlay Market's mission to reduce carbon footprints," Trombly told Soapbox Cincinnati in early September. "We are participating with Findlay's recycling program, which includes composting all kitchen scraps. Our chefs will also be wearing organic cotton chef's coats, pants, hats and even aprons."
Customers visiting for the first time tomorrow can expect a menu not surprisingly made up of fresh, seasonal items that will change regularly according to the chefs' inspirations. But Trombly also notes that the menu will always include vegan and vegetarian options. Menu items will generally include soups, salads, starters, entrees, and sweets that will all be available via curb-side pickup or delivery throughout Over-the-Rhine, Downtown, and nearby Uptown neighborhoods.
Visit Fresh Table (map) tomorrow during their first day of operations, or become a fan on Facebook to stay in touch. Those interested in placing orders can do so online or by calling (513) 381-3774.