Rachel Roberts was tired of traveling, and as a well-known and beloved yoga teacher in the Cincinnati area, she was splitting her time between several different studios, none of which were near her home in downtown Cincinnati. As a result, Cincinnati's newest yoga studio called The Yoga Bar was born.
"I am committed to a walkable lifestyle, and I wanted all my energy to be in one place," said Roberts about her previously demanding travel schedule. "I want to give where I live."
Furthering this commitment to place, Roberts says that Sangha, the Sanskrit word for community, illustrates the desire to connect those living in the downtown area. The idea, she says, is to create a welcoming, non-intimidating activity where people can learn more about each other and grow closer.
"Where else can you learn more about others' lives than at a bar?," she asked.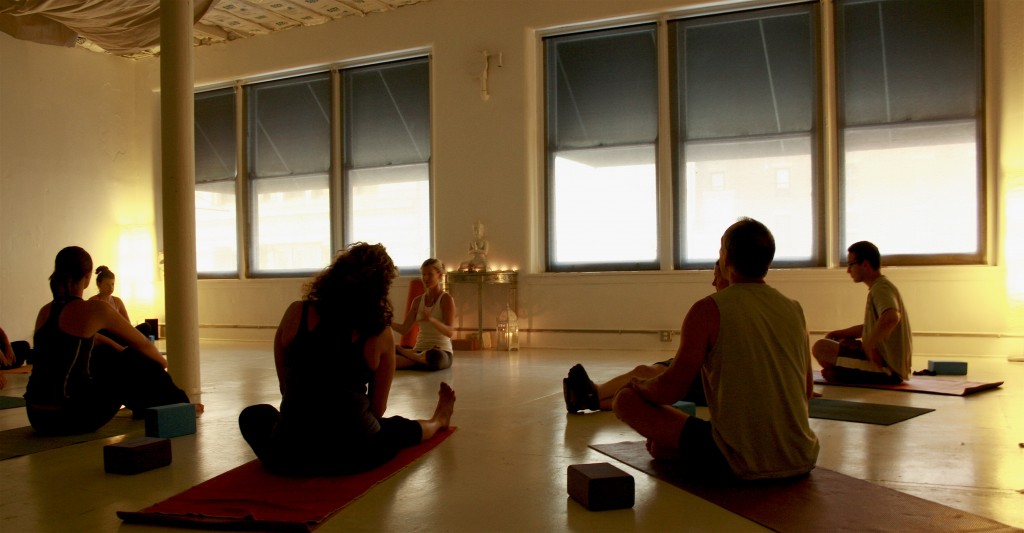 Yes, there is a bar inside to yoga studio located about the newly opened Rice Rocket Asian Grill at 825 Main Street. The space once home to a piano bar and discothèque called Club Crush, had been abandoned for some time. Now that the space has been re-imagined as a yoga studio, patrons are encouraged to come early, stay late, and congregate in the space as they get to know the people with whom they practice as they enjoy items like coconut water and kombucha at the bar.
In addition to the bar offerings and pristine white space for practice, The Yoga Bar will also boast a small retail selection. Roberts expects the space to be such a hit that she plans to offer the studio up on weekends for community members to rent for other activities.
The Yoga Bar (map) will officially open on Friday, October 2, and will be celebrating its grand opening with a Yogini-tini Martini Party as a way to introduce the community to the space. Roberts also says that there will be a ganesha puja brahmin to come and bless the new space before practice gets underway.
Once open, The Yoga Bar will offer daily classes Monday through Friday. Prices will range from $15 per class to $108 for a monthly membership. Those interested can stay connected to grand opening plans and more by following The Yoga Bar on Twitter @TheYogaBar, or by becoming a fan of the studio on Facebook.