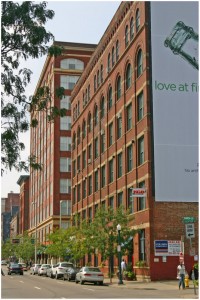 During the month of September, UrbanCincy's top stories covered two new businesses downtown, the formation of the Eight Street Design District, the loss of a popular Cincinnati blog, and the creation of UrbanCincy's own Urban Kickball League.
Our top 5 most popular articles for the month of September were:
The Yoga Bar to serve up strong sense of community downtown
Rachel Roberts was tired of traveling, and as a well-known and beloved yoga teacher in the Cincinnati area, she was splitting her time between several different studios, none of which were near her home in downtown Cincinnati. As a result, Cincinnati's newest yoga studio called The Yoga Bar was born.
Join the first-ever OTR Urban Kickball League now!
The league is open to all age levels and anyone interested in participating. The fall 2010 season will be the first-ever and will feature a variety of special treats and benefits for those participating outside of the kickball fun.
With another Cincinnati blog possibly ending, how do we stop the bleeding?
On Tuesday, the Cincinnati blogosphere learned that it would possibly lose one of its most well-respected and popular blogs. Kevin LeMaster, Editor and Publisher of Building Cincinnati, informed his readership that, "the Building Cincinnati experiment is likely to end," and that he was almost certain it would end on that same day.
18 entities join to form 8th Street Design District, kick off month-long concert series
It has long been a work in progress, but the 8th Street corridor through northeast downtown Cincinnati has evolved into a vibrant district. A district made up of trendy loft living inside former warehouses; diverse establishments like the Blue Wisp Jazz Club, Silverglades, and University Galleries; and an ever-growing collection of design-related businesses.
Chef Josh Campbell to open first micro-grocery in downtown Cincinnati
Already owner of successful ventures World Food Bar, a gourmet prepared food stand at Findlay Market, and Mayberry, a mid-range restaurant on Vine Street, Campbell (pictured, right) is expanding his food empire to include the Central Business District's first grocery – a micro-market located at 7th and Main.