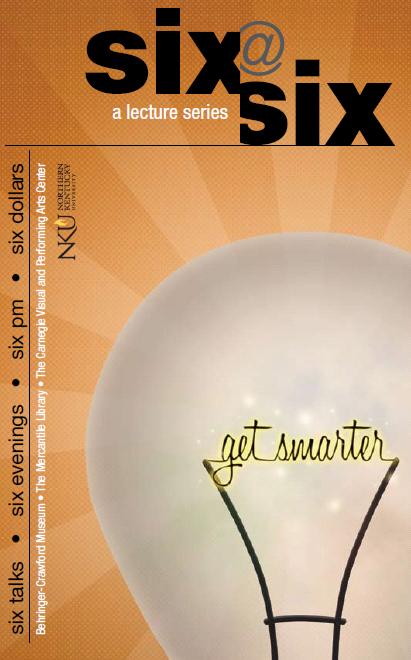 The inaugural Six@Six Lecture Series presented by Northern Kentucky University (NKU) will begin this Wednesday, September 1. The gatherings will focus on a variety of topics, and take place at three of the more interesting historic and cultural venues in Cincinnati's urban core.
The format is simple: six very different speakers, six different topics, all starting at 6pm, with a cost of $6.00 per lecture for adults (students free with valid ID). The Mercantile Library in downtown, Behringer-Crawford Museum in Devou Park, and the Carnegie Visual & Performing Arts Center in Covington will serve as the three venues being used over the course of the lecture series.
Five of the six speakers are full-time NKU faculty members with the sixth being a part of the NKU Military History Lecture Series program. The Six@Six Lecture Series will include a 60-minute presentation followed by a 30-minute question and answer period. The series will run through April 2011.
To get things started, one of NKU's most celebrated professors, James Ramage, will give a lecture on Abraham Lincoln as a public speaker. The Regents Professor out of NKU's Department of History & Geography says that while history has shown Lincoln to be one of the most prolific and respected speakers in United States history, he did not always fit the part and did not carry the physical presence that most of our celebrated leaders do today.  Later lectures will include topics on:
'The Art of the Quilt: Stitched [Hist]stories' by Dr. Kimberly Allen-Kattus – 10/21/2010
'Covering the World in a Dangerous Age' by  John Daniszewski – 11/11/2010
'Amazing Caves, Amazing Microbes: The Geomicrobiology of Caves' by Dr. Hazel Barton – 12/7/2010
'Simple Gifts' from Our Past: Frontier Shakers in the Ohio River Valley' by Dr. Carol Medlicott – 3/31/2011
'The Marriage of Music & Word: Rodgers and Hammerstein's Fearless Carousel' by Dr. Mark Hardy – 4/13/2011
Dr. Ramage's lecture on Abraham Lincoln's public prowess will take place on Wednesday, September 1 from 6pm to 8pm at the Mercantile Library (map). On- and off-street automobile parking is available in the immediate area for cash rates. Meanwhile, free bicycle parking is also available in the immediate area and virtually all Metro bus routes (plan your trip) serve this location via the Government Square Transit Hub.