One of the major challenges facing the 175-year-old Mercantile Library, as it progressed on renovating its space, was proper lighting of the space. The library space suffered from poor lighting for its users due to a number of issues. To solve such issues, the Mercantile Library tapped Over-the-Rhine-based Switch Lighting & Design.
"The Mercantile's specific problems had to do with the very high ceilings, the wiring, and the furniture," said Albert Pyle, Director, Mercantile Library. "Because it's so difficult to install task lighting here like those cool green shaded table lamps in other libraries, it was necessary to do the whole general lighting job with overhead lights. Everything had to work with the library's industrial age aesthetic and monumental volume. Tricky, to say the least."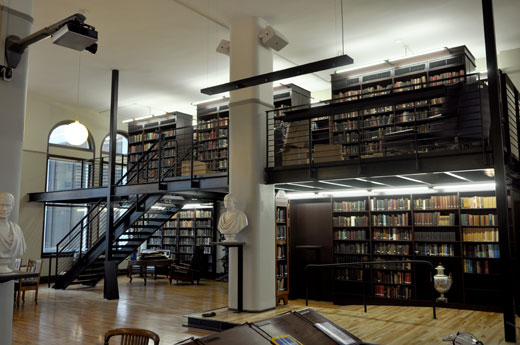 Library officials say that the new lighting needed to do a variety of things: be warm, bright, and 21st century efficient. The old "schoolhouse globes" were replaced by Wohlert Pendants that provide uniform general diffuse illumination according to Louis Poulson lighting.
"We recommended these lights because they were modern enough to indulge our commitment to modern lighting and traditional enough to maintain the classic feel of this historic library," explained Switch Lighting & Design co-owner, Bertie Ray III.
The double-stack bookshelf area was particularly problematic. In the past, the double-stack bookshelves had relied on glass floors, to allow minimal light through from the windows below, and small bulbs. The antiquated approach to lighting the stacks was replaced by Zaneen Utah Suspended Lighting T5 that is described as both sleek and modern while also being respectful to historic surroundings.
"The new globes are a better size, cleaner, and make it possible to change the bulbs without dismantling the light," Pyle stated. "The lighting in the stacks is sleek, self-effacing, and efficient; and allows us for the first time to leave the lights on throughout the day, making the stacks part of the room. Without having gotten the lighting right, nothing else would have worked correctly."