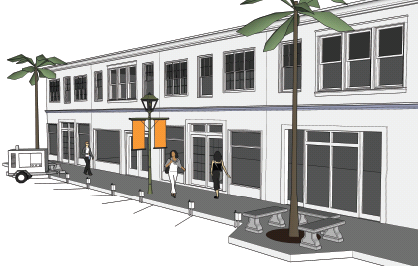 In an effort to prepare for the 2014 World Cup, Recife, Brazil is looking to redevelop its historic Dantas Barreto Corridor into a tourist-friendly, walkable, and culturally significant area. To accomplish this Recife city officials have looked to students from the University of Cincinnati's nationally-acclaimed School of Planning.
After spending months in the port city in 2009, 13 students and faculty developed a detailed plan that would serve as a guide to redevelop the corridor. As preparation efforts ramp up, city officials now appear poised to formally adopt the UC redevelopment plan.
"There is a move by the city to officially adopt the UC plan, and the city and UC are now in negotiations with the hope that the UC School of Planning can continue in an advising role as the plan is adopted and them implemented," said Michael Romanos, Professor of Planning, University of Cincinnati.
The redevelopment plan calls for burial of utilities, business improvement loans, community policing strategies complimented by two small police stations, pedestrian cultural tours, establishment of a small business incubator, galleries to show and sell work of local artists, "major" reconfiguration of traffic along the waterfront, streetscape improvements, composting and recycling programs, streets trees, green roofs, and entrepreneurship training among other things.
The improvements are geared towards improving the traffic and parking conditions, enhancing the cultural heritage, enhancing and diversifying business activities, and increasing residential development in the corridor.
Founded in the 1500s, Recife boasts a population of nearly four million residents and is facing many challenges as they prepare for the international sporting event four years from now. The work produced by University of Cincinnati students and faculty is being seen as a major benefit though as the city marches forward.
"The work with UC was one of the best collaborations we had in the past year," said Milton Botler, Coordinator of Urban Planning, City of Recife. "The City hopes to receive Inter-American Bank funding to finance physical improvements of the Dantas Barreto Corridor between January 2011 and December 2012."
Michael Romanos and Carla Chifos, Associate Professor of Planning, have led groups of student in international study and planning work in the past in other parts of the world including Thirasia, Greece where a team of students worked to develop a plan for the small Greek island as it manages tourism traffic on its largely uninhabited land.