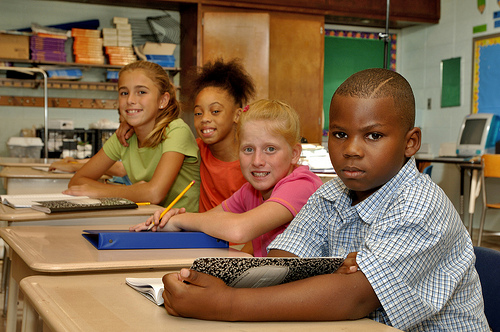 A newly formed Cincinnati-based non-profit is attempting to take on one of the more complex issues facing cities: Education. DevonshireSmith Diversity & Education Solutions (DVS) was launched last week with the goal of increasing high school and college graduation rates among minority groups.
DVS emphasizes that a lack of educational opportunities within minority communities can lead to other significant issues such as poverty. The non-profit points out that, in 2008, the median earnings of young adults (ages 25-34) with a bachelor's degree was $46,000; $36,000 for those with an associate's degree, $30,000 for those who complete high school, and $23,500 for those who did not earn a high school diploma or equivalent.
The progressive group will utilize community and school based initiatives, while also working towards filling service gaps and support for non-profit organizations, high schools, colleges, and universities. Some of the group's projects include campus diversity education, curriculum development, and recruitment and retention plans.
Michael D. Griffin, Co-Founder and DVS Executive Director says "DevonshireSmith aims to shift the public conversation from the equality of educational access of minoritized groups to the equity of educational attainment for these groups."
According to DVS, the state of education for minority groups has two major hurdles to overcome. First, the number of minority students being retained and graduating from high school and college has either become stagnant or is on the decline. Secondly, education and youth professionals are lacking the required level of cultural familiarity to effectively address the significant needs facing these students.
DVS believes that youth development and empowerment can lead to an increased number of minority graduates, thus leading to stronger communities in Cincinnati's urban core. To help achieve their goals, DVS has created a plan that consists of three organizational hallmarks:
A comprehensive youth development strategy that focuses on academic success, self-assessment, heightened expectations, personal development, character development, leadership development, civic engagement, career exploration, cultural/social justice education, and post-baccalaureate education exploration.
A comprehensive community based approach that includes the participation of parents and other surrogate caregivers, educational institutions, the nonprofit community, the faith community, and the corporate community.
Creating a process for educational institutional transformation that includes the participation of better prepared and engaged students and more culturally competent faculty, administrators, practitioners, and staff.
The most astonishing statistic provided by DVS compares the cost of a college education with that of a prison inmate. The group states that The Ohio Department of Rehabilitation & Correction spends about $2 billion annually, an average cost of $25,367 per inmate each year. Conversely, in 2008-2009, the average cost for one-year of tuition fees at a four-year public university in Ohio was $8,588 according to CollegeAdvantage 2010 data.
At the same time, the average reading level of inmates is at a grade level of 7.5, while 80 percent of the offenders are high school drop outs. According to the Ohio Department Rehabilitation & Correction, approximately 30 percent of the males and 20 percent of the females read at less than a 6th grade level and are considered functionally illiterate. DVS is hoping that they can begin to reverse these numbers by reaching out to a 'hard to serve' population in a more direct fashion.