[This story was originally published in the Cincinnati Business Courier on July 19, 2010. Visit the original story for more comments, thoughts and opinions on Dojo Gelato's success at Findlay Market – Randy.]

Michael Christner moved to Cincinnati from Austin, TX last year and opened Dojo Gelato at Cincinnati's historic Findlay Market. Christner expected business might be good due to the limited amount of competition in Cincinnati relative to Austin, but so far business has exceeded expectations for local entrepreneur.
Christner follows a few basic principles in his gelato prep kitchen which he refers to as a "laboratory." He makes the gelato and sorbetto fresh and in small runs with no artificial ingredients. Milk, pure cane sugar, and cream is all that is used to create their gelatos, while the sorbettos only contain fruit, pure cane sugar, and water. Customers will also find a product free of artificial preservatives, unnatural stabilizers, powders or gels, or hormone dairy products.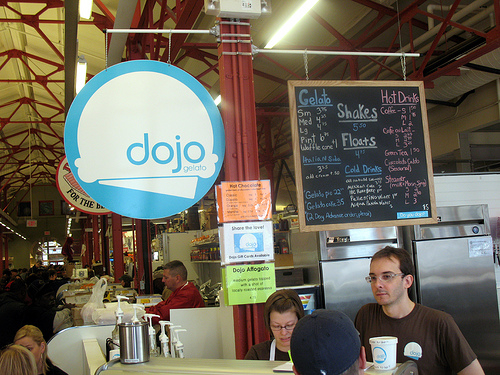 "I've been like wow, this is working…it's really working," Christner said about Dojo Gelato's success thus far. "When I opened, the Dojo Cart wasn't even budgeted into the business plan, but we always thought it would be great to do five or six special events a year. With business being so good, the cart has become reality much quicker."
The quicker arrival of the DojoCart now serving people at special events throughout Cincinnati is not the only mark of success for the Italian-style ice cream maker. Christner says that Dojo Gelato has also increased production, grown its staff, while also increasing sales.
So far sales at Dojo Gelato's store at Findlay Market and the new DojoCart are 16% higher than what was originally forecasted, and in May, Dojo Gelato set two consecutive sales records at Findlay Market. The business growth has also accelerated plans for increased production. In March, Dojo Gelato purchased an additional gelato batch freezer from Italy that allows Christner to now produce 52 gallons of gelati an hour which represents a 32% increase in production since the business opened in August 2009. During that same time the staff has increased from one employee in last summer, to five employees today.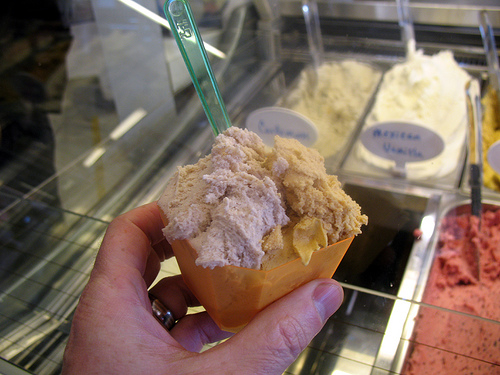 "It's been a gradual incline, with every month being a little better than the month before," Christner explained. "I take my product very seriously, but at the end of the day it's just food and it's more about bringing people together."
According to Christner, Dojo Gelato customers represent a wide variety of people together that includes a business and neighborhood crowd during the week at lunch; older individuals, tourists, and suburbanites on the weekends; and lots of families on Sundays. Young adults between the ages of 20 to 40 are also a big part of Dojo Gelato's daily business.
"I wanted to do this since I was 20 years old, and I'm 34 now. This is not just some hobby, I live, eat, and breathe everything Dojo Gelato," Christner emphasized. "I've realized that this is a marathon, not a sprint, and everything needs to fall into place for future expansion efforts."
Dojo Gelato is open at Findlay Market (map) Tuesday through Friday from 9am to 6pm, Saturday from 8am to 6pm, and Sunday from 10am to 4pm. Those out and about can find the DojoCart at the Wyoming Farmers Market on Tuesdays, Wednesdays at the Clifton Cultural Arts Center for their summer concert series through July, Saturdays on Fountain Square for movie nights, and at the Hyde Park Farmers Market every Sunday.