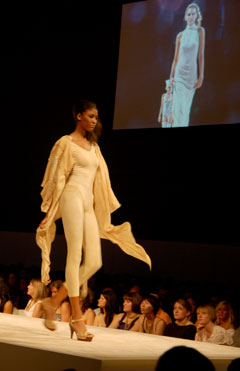 Each year those graduating from the University of Cincinnati's College of Design, Architecture, Art & Planning put on a show of their final work for visitors from all over the nation. DAAP Works 2010 will highlight the creative work of students from the internationally acclaimed Architecture, Urban Planning, Digital Design, Fashion Design, Fine Arts, Graphic Design, Interior Design and Industrial Design programs.
This year's exhibition will run from Tuesday, June 8 through Saturday, June 12. DAAP Works 2010 is free and open to the public, and is open on Tuesday from 5pm to 9pm, Wednesday through Friday from 9am to 9pm, and Saturday from 12pm to 2pm. The week-long showcase will be highlighted on Friday night with the 59th Annual Macy's Fashion Show.
The primary DAAP Works exhibition will be held inside the Aronoff Center for Design & Art and the Meyers Gallery both located on UC's main campus (map). Visitors will be treated to a variety of visual displays including architectural models, product design, digital animation, fashion showcases, art installations and more.
This year's graduating class includes UrbanCincy writer, and Interior Design graduate, Jennifer Kessler.  Jennifer's final project is a design for a children's library in Over-the-Rhine that utilizes a historic structure along Clay Street.  The Children's Library of Over-the-Rhine's design concept is based around a nook concept and will be on display on the building's 4000 level near the DAAP Cafe.
Considered to be one of the 50 things to do before you die, the 59th Annual Macy's Fashion Show will take place at 8pm inside UC's award-winning Campus Recreation Center (CRC) where another sold-out crowd of 1,500 is expected. Tickets are required for this event and cost $40 for general admission to the show or $50 for preferred seating. Tickets are also available for a cocktail reception prior to the show for $40, and the VIA After party for $20. Those unable to attend the fashion show in person are able to purchase $20 tickets for a live simulcast that includes access to the VIA After party located directly outside the CRC. All tickets can be purchased online or by calling (513) 451-6191.