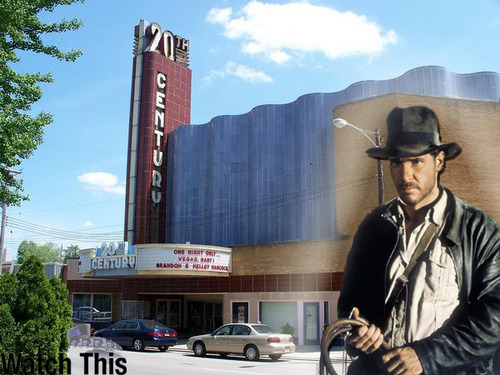 Alex Shebar and Allison Johnson are on a mission to watch all of the American Film Institute's top 100 films in a year. They have been hosting screenings all year in various locations, and today marks the most epic film viewing yet as WatchThis hosts a free showing of Raiders of the Lost Ark at the historic 20th Century Theatre in Oakley.
The classic Indiana Jones movie will be shown on the theater's movie screen and will be the largest venue to date out of the 40 movies viewed thus far. Alex and Allison are hoping that they can "pack the house" and are encouraging people to bring their friends and a healthy appetite.
Admission is free, and food and drink (including alcoholic beverages) will be available for purchase.  The movie will start at 7pm tonight at the 20th Century Theatre on Madison Road (map).  Free bicycle parking is available nearby, and Metro bus service is available (plan your trip).