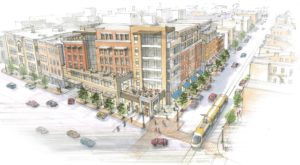 On the 63rd episode of The UrbanCincy Podcast, Travis, Randy, and John discuss some recent news stories affecting Cincinnati's urban core.
We talk about the potential demolition of Cincinnati Gardens, as how younger Cincinnatians have stepped up to fight to save historic buildings like The Dennison Hotel and the Davis Furniture building. We discuss the proposed LibertyElm development and whether the originally-proposed six story design was appropriate for Over-the-Rhine. We give a preview of some of the changes coming soon to Main Street and the eastern half of OTR. And finally, we discuss the changes to this year's MidPoint Music Festival, which has had a long history of being integrated into the urban core but will take a much different format this year.
Photo: The original proposal for the LibertyElm development.